Book Supporter of The Year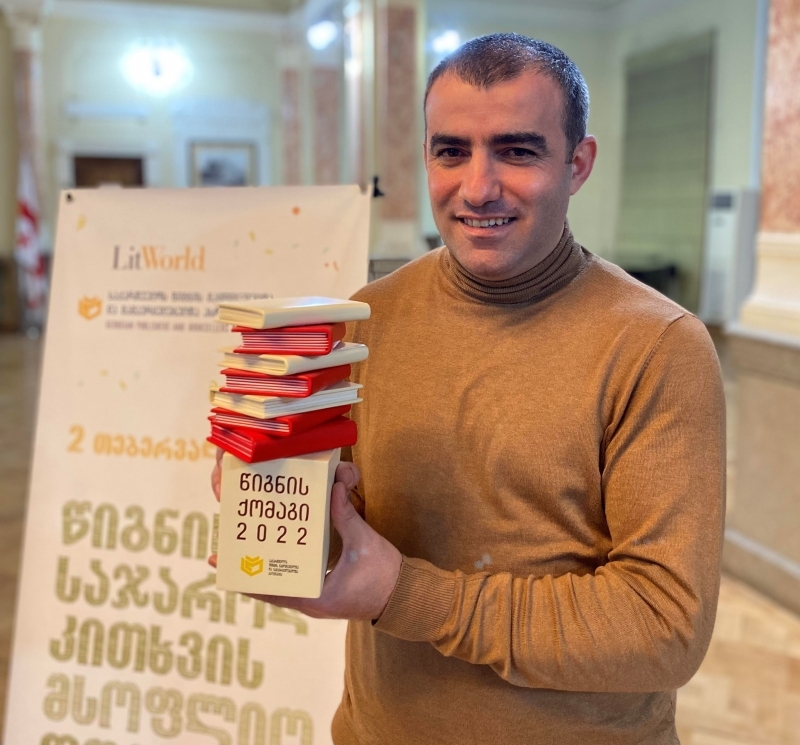 Book Supporter 2022

At the closing ceremony of WRAD Georgian Publishers and Booksellers Association's Chairperson, Rusudan Mosidze, and Executive Director, Tinatin Beriashvili presented the award to Vakhtang Beridze.
Vakhtang Beridze was awarded for his significant and exceptional contribution to the popularization of literacy in Adjara, the spread of education, and the formation of critical thinking; For the establishment of the Literary Festival "Ze-kartan", which will be held for the tenth time in 2022, and which not only hosts contemporary Georgian authors but also has gained international scale in recent years;
Literary Festival "Ze-kartan" was established in 2013 at the initiative of Vakhtang Beridze. Within a few years, the festival acquired the status of an international literary festival. "Ze-Kartan" is held every autumn in Shuakhevi, Adjara. By the time, the festival has hosted about 350 authors. The aim of the festival is to promote literacy in Adjara, while introducing local culture and traditions to the invited guests.
The annual award was first established by GPBA back in 2016 to recognize and acknowledge people, projects, or institutions that contribute to the spread of literacy in Georgia. In order to become the recipient of the award, a person or organization shall not be employed in the book sector, i.e. promoting the given sector shall not be their direct professional duty. In the previous years, the Book Supporter of the Year award was given to actress Nino Kasradze (2021), "Tsignebis Taro" (2020) - a literary gameshow for high-school students, Businessman Mamuka Khazaradze (2019), Film Director Temur Chkheidze (2018), Broadcasting & media production company Formula Creative (2017), Parliamentarian Levan Berdzenishvili (2016).