News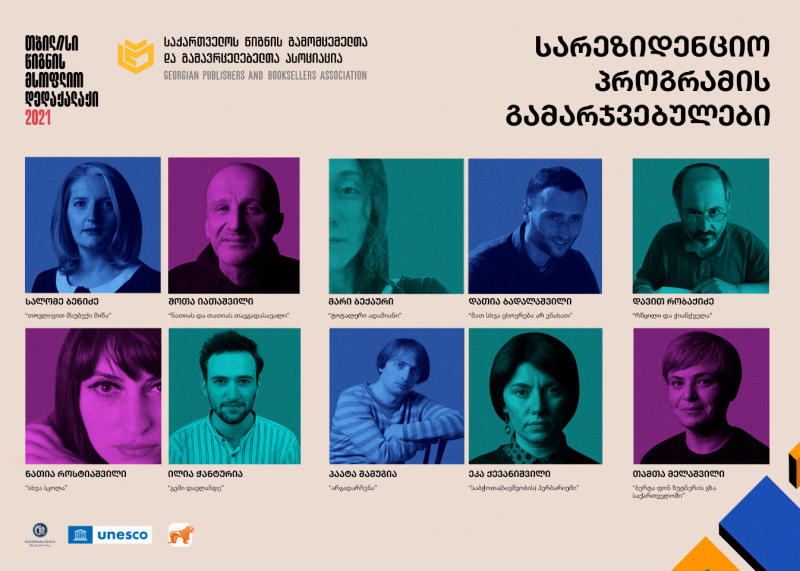 Winners for Residency Program are Announced / Tbilisi – World Book Capital 2021

Winners for Residency Program are Announced / Tbilisi – World Book Capital 2021
On May 27, Winners for Residency Program, announced within "Tbilisi – World Book Capital 2021" Project, were revealed on live television.
Applications were reviewed and evaluated in detail by the special jury of writers, poets and literary critics: Rostom Chkeidze, Irakli Kakabadze, Nino Sadgobelashvili, Nestan (Nene) Kvinikadze and Irakli Samsonadze.
The jury revealed 10 winners, who will have a unique opportunity to work on their texts submitted for the program this summer, profiting from a calm, peaceful and comfortable environment. The Winners are:
Mari Bekauri (Sulakauri Publishing);
Tamta Melashvili (Sulakauri Publishing);
Natia Rostiashvili (Intelekti Publishing);
Shota Iatashvili (Palitra L Publishing)
Salome Benidze (Intelekti Publishing)
Ilia Chanturia (Artanuji Publishing);
Datia Badalashvili (Intelekti Publishing);
Eka Kevanishvili (Melani Publishing)
Paata Shamugia (Intelekti Publishing);
Davit Robakidze (Saari Publishing).
The main goal of the Residency Program is to boost the Georgian writers' motivation, promote productive work and creative process, resulting in the creation and publication of brand new literary works before April, 2022, i.e. during the year that the Georgian capital, Tbilisi holds the honorable status of World Book Capital.
The selected writers will spend two weeks working on their respective texts in the cities across Georgia. Accommodation, transportation and meals are fully covered by the program.
Tbilisi – World Book Capital is a UNESCO Project, supported by Tbilisi City Hall. General Sponsor for the project is Bank of Georgia.
Subscribe to newsletter
What language do you prefer for newsletter?