Implemented Projects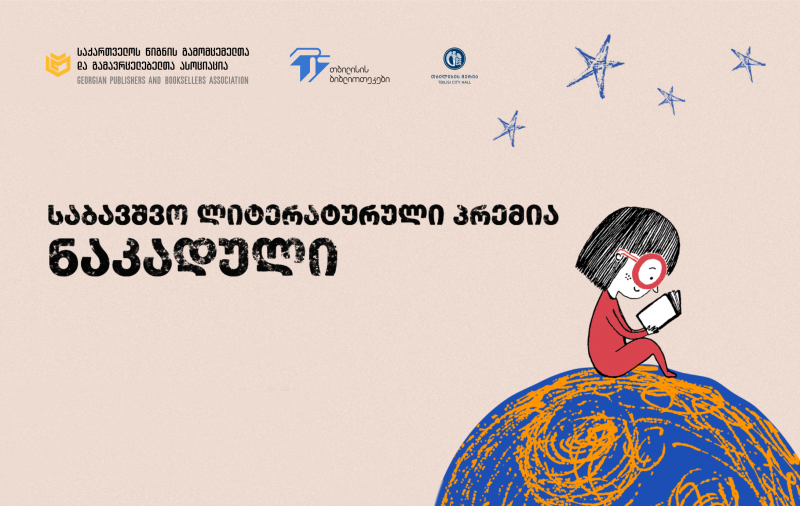 Children Literary Award Nakaduli

Organized by the Georgian Publishers and Booksellers Association and Tbilisi Multifunctional Libraries, with the support of Tbilisi City Hall, the Children's Literary Award "Nakaduli" was announced for the second time. 55 books have been submitted in four nominations for the award. 11 books were shortlisted.
The purpose of the award is to promote the development of Georgian children's literature and increase public interest. Also, encouraging authors working on children's books and promoting their work.
The award is given in the following nominations:
The Best Prose Book

The Best Poetry Collection

The Best Picture Book

The Best Educational Book
The five-member jury selected within the framework of the project will identify the winners of the nominations. The winners will be awarded a trophy and a prize of 2500 GEL.
The name of the award is related to one of the first, legendary Georgian children's magazine "Nakaduli", which was published in 1904-1927 and Akaki Tsereteli, Vazha-Pshavela, Shio Mgvimeli, Leo Kyacheli, Ekaterine Gabashvili, and others collaborated with it.
The "Nakaduli" award was established last year within the framework of the UNESCO project "Tbilisi - World Book Capital".
The winners have been revealed in four nominations.
The Best Prose Book
Stories of Lizard Kosta - Akaki Daushvili, Publishing House Meridiani;
The Best Poetry Book
The Garden of Sparrows - Robert Meskhi, Publishing House Samshoblo
The Best Illustrated Book
Squirrel, Nanuna and a Boy - Khatia Chitorelidze, Intelekti Publishing
The Best Educational Book
Mythical Heroes and Their World - Inga Antidze, Artanuji Publishing;