Implemented Projects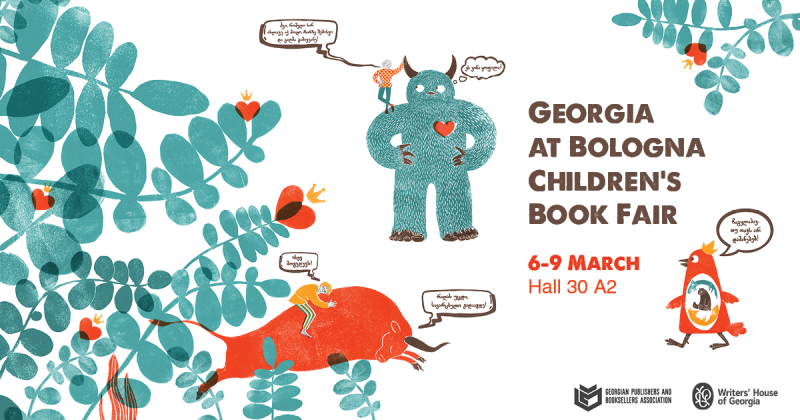 Georgian National Stand at Bologna Children Book Fair

Organized by the GPBA and the Writer's House of Georgia, from 6 to 9 March Georgia presented with a national stand and program at the Bologna Book Fair.
Up to 10 Georgian publishers participated in the Bologna Children's Book Fair this year and met with foreign publishers to present publishing programs and sell copyrights. Among them were Elf publishing house, Diogene Publishers, Intelekti publishing, Artanuji publishing, Sulakauri Publishing, Shemetsneba publishing, and Palitra L Publishing.
The Georgian national stand was presented children's editions of Georgian authors, catalogs prepared by GPBA, Writers' House of Georgia, etc.
Illustrator Tatia Nadareishvili held workshops 'Image and Inscriptions' about the Georgian alphabet for the visitors of the fair at the national stand of Georgia for three days.
Encouraging and supporting children's literature in Georgia is of paramount importance, and the Bologna Children's Book Fair provides an excellent platform for achieving this goal. By participating in the fair, Georgia can gain access to valuable connections and networking opportunities that can help promote its literature internationally. As a crucial platform, Bologna can serve as a significant stage for Georgia to showcase its children's literature to both the Italian and the wider global community, providing a unique opportunity to raise awareness and appreciation for Georgian literature.
The Bologna Children's Book Fair is an industry-leading event that has succeeded in bringing together a unique and diverse global audience thanks to 60 years of experience. The result is the world's premium copyright exchange hub when it comes to publishing which also extends to current multimedia and licensing businesses for children's stories, illustration, animation, and related areas. The main children's literary prizes, the Hans Christian Andersen and Astrid Lindgren prizes at the Bologna Fair Winners will be announced. Giorgi Jincharadze, Irma Malatsidze, and Nikozi Art School have been nominated for the Astrid Lindgren Award from Georgia this year.