Implemented Projects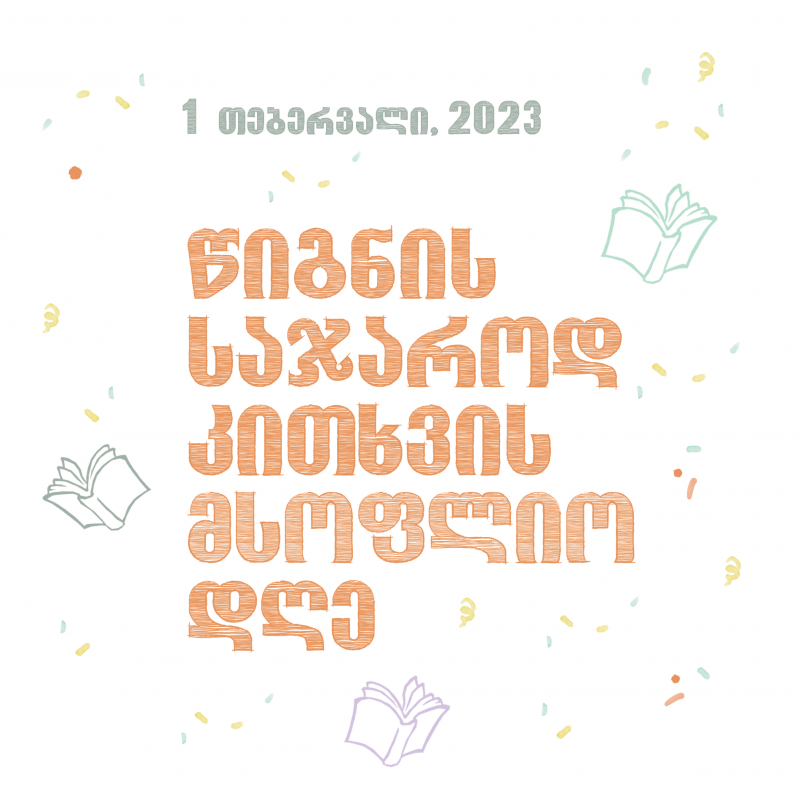 World Rear Aloud Day 2023

Georgia once again joined in the well-known World Read Aloud Day on February 1.
Schools, universities, and other educational institutions from all over Georgia participated in the event throughout the day by reading literary works to students and emphasizing the value of literacy.
The final WRAD event took place in the national library and featured a conversation with Georgian authors Levan Berdzenishvili, Iva Pezuashvili, and Tamar Lebanidze, chairperson of GPBA. They discussed the difficulties and limitations of our right to free speech. The Book supporter of the year was revealed following the discussion.
On World Read Aloud Day, more than 90 million participants from 100 various nations come together under the theme "Read aloud, change the world." This day offers individuals from all over the world the chance to interact, celebrate the pleasure of reading aloud, and support the promotion of reading.
At the closing ceremony of WRAD Georgian Publishers and Booksellers Association's Chairperson, Tamar Lebanidze, and Executive Director, Tinatin Beriashvili presented the award to Georgian footballer and couch Shota Arveladze.
The book supporter award was given to Shota Arveladze for the Project of Renewing the Book Stock of Regional Libraries which simply could not have been completed without his support and as a result of which the book fund of 64 central libraries of Georgia was renewed. Consequently, young people living in the regions have increased access to new and modern publications.
Additionally, for those initiatives and projects that help young people become more motivated by highlighting to them the value of education, sports, and a healthy lifestyle: in 2022, for sending 12 of the best students to Naples, Italy, to attend a game featuring renowned Georgian footballer Khvicha Kvaratskhelia; To inspire young people that success attained through their work is the most important thing;
In 2019, for the anti-occupation charity project "Football Against Occupation", within the framework of which 150 teenagers living in the regions affected by the 2008 war were allowed to train under the guidance of a coach throughout the year;
The annual award was first established by GPBA back in 2016 to recognize and acknowledge people, projects, or institutions that contribute to the spread of literacy in Georgia. In order to become the recipient of the award, a person or organization shall not be employed in the book sector, i.e. promoting the given sector shall not be their direct professional duty. In previous years, the Book Supporter of the Year award was given to film director Vakhtang Beridze (2022), actress Nino Kasradze (2021), "Tsignebis Taro" (2020) - a literary gameshow for high-school students, Businessman Mamuka Khazaradze (2019), Film Director Temur Chkheidze (2018), Broadcasting & media production company Formula Creative (2017), Parliamentarian Levan Berdzenishvili (2016).
Subscribe to newsletter
What language do you prefer for newsletter?