News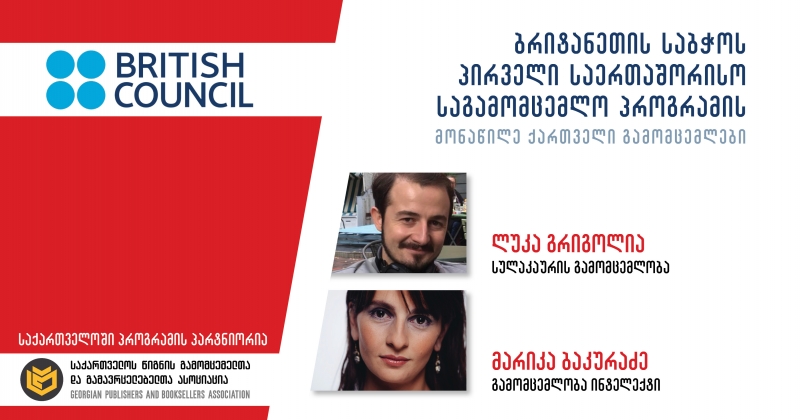 British Council has announced participants in inaugural International Publishing Fellowship

British Council has announced participants in inaugural International Publishing Fellowship!!!
This brand-new initiative will connect publishing professionals in the UK with those in growing publishing markets overseas, to deepen their understanding of international markets and forge lasting professional networks. In Georgia the programme is delivered in partnership with Georgian Publishers and Booksellers.
Six industry professionals from the UK will be paired with counterparts from Georgia, Turkey and Ukraine – countries with publishing markets undergoing fast-paced change. The programme features reciprocal study visits, work shadowing, sector networking events, and professional development training. The Georgian fellows are Mariam Bakuradze (Intelekti Publishing) Luka Limeri Grigolia (Sulakauri Publishing).
The Fellows, who were selected via open-call application, all demonstrate a commitment to innovation and internationalism in publishing. Representing a range of genres including literary fiction, children's and YA, non-fiction and art and design, their roles include editorial, foreign rights, marketing, design and production, for both large conglomerate publishers and boutique independent presses.
The UK fellows are Alesha Bonser (Penguin Random House), Arthur Thompson (Kogan Page), Emma Warnock (No Alibi), Molly Sight (Scribe), Ansa Khan Kattak (Picador), Becca Parkinson (Comma Press)
The fellows from Turkey are Başak Güntekin (Nebula Kitap) and Mehmet Erkurt (Can Yanilari).
And the Ukrainian fellows are Mykola Kovalchuk (ArtHuss) and Kateryna Nosko (IST).
At the end of the programme, all Fellows will be invited to bid for a professional Development Fund of up to £3k each, to enable them to continue forging international professional links within the industry.
Rachel Stevens, Director of Literature at British Council says:
"The British Council are thrilled to be launching an International Publishing Fellowship, to support professional development and promote global connections throughout the industry. We have seen collaborations across the international publishing community foster new approaches to sharing culture across borders, and we look forward to seeing the ideas and innovations that emerge from this new Fellowship programme."
Further details on the International Publishing Fellowship can be found here: