News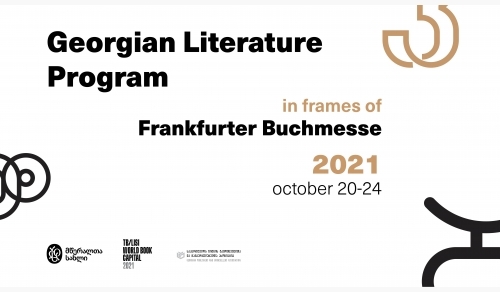 Georgian Literature Program at Frankfurt Buchmesse 2021

Organized by the Georgian Publishers and Booksellers Association and the Writers' House of Georgia, with the financial support of the project "Tbilisi - World Book Capital 2021", on October 20-24, 2021, Georgia will present a literary program at the Frankfurt Book Fair.

Due to covid-regulations and restrictions in the Federal Republic of Germany, Georgia cannot be represented with a national stand at the Frankfurt Book Fair in 2021. Although we will still offer a literary program to German-speaking readers.
On October 21, Aka Morchiladze will present a new translation of his book "Old Hearts and Swords" to the German readers as part of the Bookfest City festival at the Frankfurt Book Fair in Roomers Frankfurt. The moderator of the event will be Tilman Sprekelsen, a well-known German journalist and literary critic, a great lover of Georgian literature, and the editor of the culture section of the influential German publication Frankfurter Allgemeine Zeitung.
On October 22, at the Frankfurt Book Fair, a shared event of Aka Morchiladze and Canadian author Paul Siskvesis will be held at the Frankfurt Pavilion of 2021 on the topic of Preserving and Protecting Languages and Culture – The Way We Were – Canadian-Georgian series.
On October 23, within the framework of the Frankfurt Book Fair, the annual LiteraturBahnhof Literary Festival will host Lasha Bakradze at the Haus des Buches Frankfurt Book House, which will present to German readers the latest German translations of Georgian writers.