News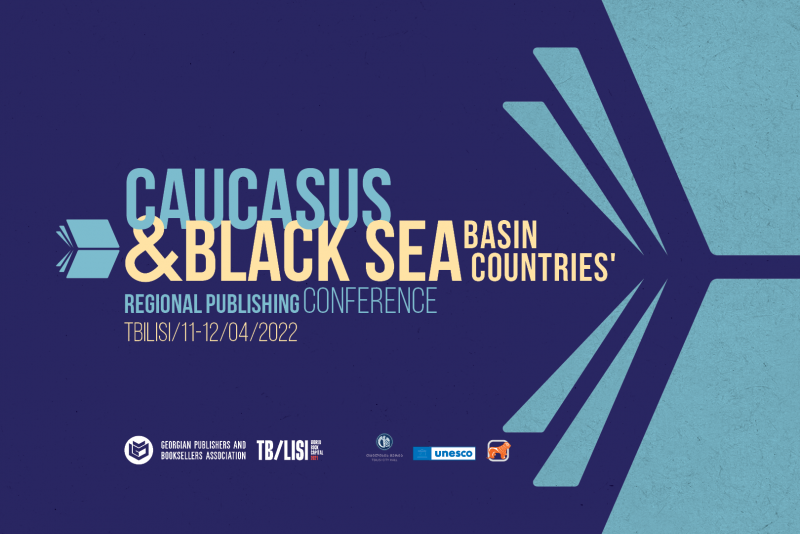 Call for Caucasus and Black Sea Basin Countries Regional Publishing conference

Organized by Georgian Publishers and Booksellers Association, within the framework of the "Tbilisi - World Book Capital", on April 11-12 Caucasus and Black Sea Basin Countries' Regional Publishing Conference will be held in Tbilisi, Georgia.
For the conference, nearly 30 publishers and industry representatives will participate from the Caucasus and Black Sea countries (Georgia, Turkey, Armenia, Azerbaijan, Bulgaria, Romania, Ukraine), as well as from Europe and the United States of America. Representatives of the International Publishers Association (IPA) and Pen America will also take part in the event. Due to the ongoing situation in Ukraine, by the decision of the conference organizers, Ukrainian participants will join the conference online, therefore, the event will be held in a hybrid format. Russia, which also belongs to the Black Sea countries, will not be invited to the conference as a sign of boycott.
The conference will be held mainly in the format of panel discussions. Main topics of the events are:
Translations from the region: how 'small' language cultures with rich cultural background are ensured with sufficient reading space in 'large' language cultures;
Freedom to publish: censorship challenges of the region;
Copyright issues and impact of the CoVID period on copyrights;
How to sell copyrights?
Regional book fairs as cultural hubs;
Literature from the war zones;
Promotion of reading;
Bookshops and bookselling in regions – pandemic challenges: internet sellers;
Book editors: choosing foreign literature and promotion of local contemporary writers;
Book marketing; challenges of independent and small publishers;
The conference will be open with opening remarks by deputy chairperson of GPBA Gvantsa Jobava, director of project "Tbilisi – World Book Capital" Ninia Macharashvili and president of IPA Bodur Al Qasimi. Also, representatives from every country will present their countries' book markets.
IPA
José Borghino - Secretary-General of the International Publishers Association
James Taylor - Director of Communications and Freedom to Publish, IPA
Dr. Jessica Sänger - Legal Counsel, Director for European and International Affairs, German Publishers Association; Chair of IPA Copyright Committee;
Trasvin Jittidecharak –Freedom to Publish Committee member, IPA. Publisher, Silkworm Books
Pen America
Polina Sadovskaya - Program Director, Eurasia
USA
Edward Nawotka - International and Bookselling Editor, Publishers Weekly
Porter Anderson - Editor-in-Chief of Publishing Perspectives
UK
Emma House – International Publishing Consultant
Georgia
Tinatin Beriashvili – Executive Director, Georgian Publishers and Booksellers Association
Zviad Kvaratskhelia- Publisher, Writer
Tina Mamulashvili – Publisher, Sulakauri Publishing
Natasha Lomouri -Director of Writers's House of Georgia
Irakli Kakabadze-Writer, translator
Paata Shamugia – Writer, President of Pen Georgia
Irakli Gagnidze – Partner and Director at Biblus Group
Nata Dzvelishvili – CEO at Indigo Publishing
Ukraine
Yuliia Kozlovets - Coordinator of the International Book Arsenal Festival, Mystetskyi Arsenal
Andrey Kurkov – Writer, President of Pen Ukraine
Oksana Khmelyovska - the professional development programs curator of the International Book Arsenal Festival, co-founder, and editor-in-chief of the Chytomo.
Bohdana Neborak - Editor in chief at "The Ukrainians"
Turkey
Merve Diler - Kalem Literary Agency (Literary Agent, Foreign Non-Fiction Titles)
Mehmet Erkurt - Editor, Deputy Editor-in-Chief at Can Çocuk Yayınları
Rüyam Yılmaz – Bookstore Owner, Gergedan Kitabevi
Armenia
Armen Martirosyan - CEO of ANTARES Publishing house
Arevik (Ari) Ashkharoyan - Founder and Literary Agent at ARI Literary and Talent Agency and ARI Literature Foundation
Armen Ohanyan - President of PEN Armenia since 2017
Azerbaijan
Nigar Kocharli - CEO and Founder of Ali and Nino Bookstores Chain and Ali and Nino Publishing House
Shahbaz Khuduoglu - CEO and Founder of Qanun Publishing House
Gunel Movlud (Imanova) - Writer
Romania
Dan Croitoru - Editura Polirom (Polirom Publishing House); editorial director.
Bogdan Alexandru Stanescu - Editorial Director of PandoraM Publishing House
Mihai Mitrica - Executive director of Romanian Publishers Association (AER).
Bulgaria
Svetlozar Zhelev – Director of the National Book Center in National Palace of Culture, Sofia, Bulgaria;
Desislava Alexieva – Chairman, Bulgarian Book Association
Manol Peikov – Publisher, translator, Janet 45 Publishing
The events will take place at the conference hall of the Rooms Hotel, in Tbilisi.