News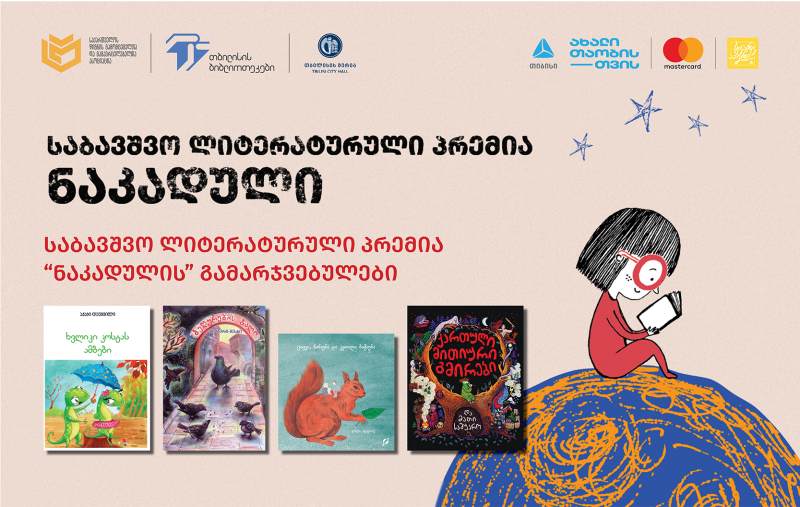 Winners of Award Nakaduli

As part of the New Year book festival, the award ceremony of the winners of the children's literary competition "Nakaduli" was held. The winners have been revealed in four nominations.
The Best Prose Book
Stories of Lizard Kosta - Akaki Daushvili, Publishing House Meridiani;
The Best Poetry Book
The Garden of Sparrows - Robert Meskhi, Publishing House Samshoblo
The Best Illustrated Book
Squirrel, Nanuna and a Boy - Khatia Chitorelidze, Intelekti Publishing
The Best Educational Book
Mythical Heroes and Their World - Inga Antidze, Artanuji Publishing;
The "Nakaduli" award jury involved five members: Giorgi Liparishvili, Giorgi Jincharadze, Irma Tavelidze, Nato Davitashvili, and Giorgi Kekelidze.
In the contest, 12 books from 55 were shortlisted in four nominations. Each winner received a special award trophy and a prize of 2,500 GEL amount.
The award aims to support the development and promotion of Georgian children's literature and increase public interest. Also, encourage authors to work on children's books and raise their creativity.
The name of the award is related to one of the first, legendary Georgian children's magazine "Nakaduli", which was published in 1904-1927 and Akaki Tsereteli, Vazha-Pshavela, Shio Mgvimeli, Leo Kyacheli, Ekaterine Gabashvili, and others collaborated with it.