News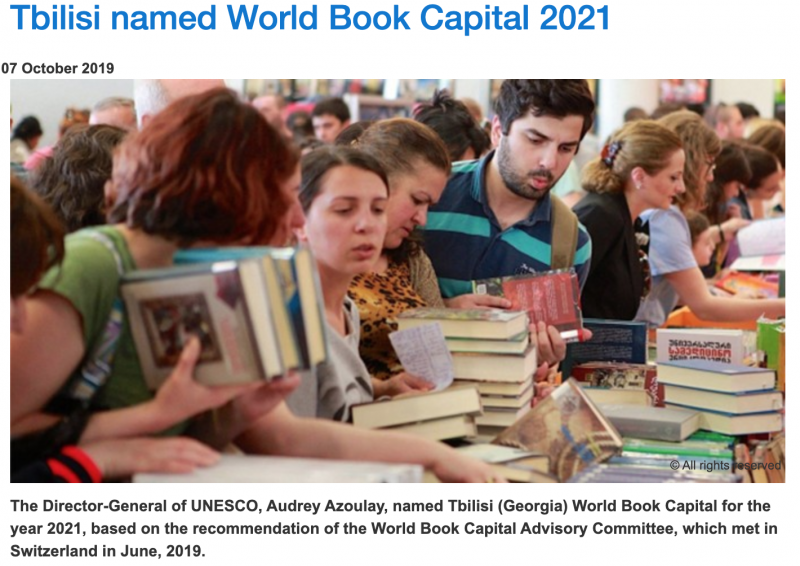 The World Book Capital of 2021 will be Tbilisi according to UNESCO's decision

Every year, different cities around the world are granted the status of World Book Capital. Tbilisi City Hall submitted an application for the status of World Book Capital in May of the ongoing year. The Georgian Publishers and Booksellers Association has been involved in the preparation process of the application together with the Tbilisi Multifunctional Libraries.
Tbilisi gained the status on the first try.
World Book Capital is a large-scale project, founded in 2001 by the decision of the UNESCO General Conference. It aims to promote books and reading, support the development of the book industry and all related fields, and benefit modern authors, translators, librarians, publishers, etc.
UNESCO launched the project in 2001 with Madrid becoming the first book capital. Currently, the capital of the book is Sharjah (United Arab Emirates), which achieved the status of an eighth attempt. The fifth try was lucky to be the capital of Malaysia. Kuala Lumpur will take the title of Book Capital from Sharjah in 2020.
Tbilisi will officially be granted this status on April 23, 2021 and will be offering variety of events for the audience for the whole year. Opening and the main events will be attended by UNESCO representatives and members of the Advisory Committee.