News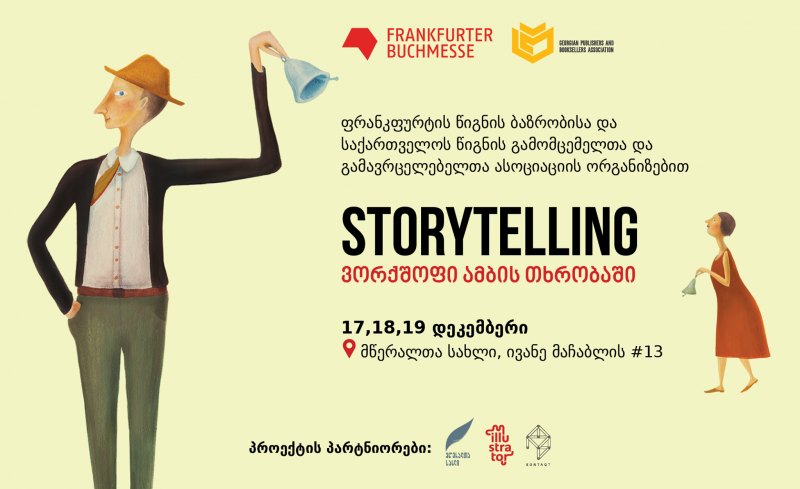 Pressrelease: Storytelling Workshop

Georgian Publishers and Booksellers Association In cooperation with Frankfurt Book fair organizes the storytelling workshop for Photographers, Illustrators, graphic designers, and other visual artists which will take place at the Writers' House of Georgia on December 17,18 and19. Since the very successful presentation of Georgia at the Frankfurt Book Fair where Georgia was presented as the Guest of Honor Country, this is a continuation of cooperation with the German partner and a joint project which will be realized in Georgia.
Workshop aims to share experience How to set up a story ourselves or work over an existing story to make it work for a visual project (book, exhibition, movie). How to create a story around a certain topic, how to work with text, how to translate it into visuals and mainly: what to leave out with words and visuals, to include the reader's mind as the missing link.
20 selected participants will be announced tomorrow at 11:00am through live video at Georgain Publishers and Booksellers Association Facebook page. Participants will have a chance to get introduced with the tricks of storytelling and editing. How to tell the story with help of photography - study of the language of photography; what does editing process entail. Participants will get chance to understand mechanisms of playwriting from classic period till today and the ways of transforming their everyday stories into fictional texts - How stories were told in the antic period and how stories are told today. After the short introduction participants will continue with practical activities.
Workshop will be led by: photographer Dina Oganova, writer and playwright David Gabunia and Frankfurt Book Fair representative Hendrik Hellige.
Project partners: Writers House of Georgia, Illustrator, Contact.
Contact Person: Levan Dzneladze
Email: Levan.dzneladze@gmail.com